Keep an Eye Masterclasses
Seminar 'Artist in Business'
September 30th 10.00-18.00
Conservatorium van Amsterdam  <<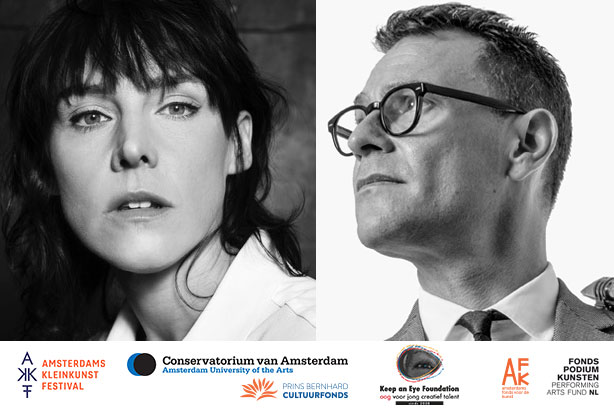 A day full of unique workshops for artists and musicians. About how to forward your entrepreneurial skills and better market your product.
Organized by the Amsterdams Kleinkunst Festival in collaboration with the Keep an Eye Foundation, the Prins Bernhard Cultuurfonds and the Conservatorium van Amsterdam. Because of the international music students, this seminar is offered in English.
Guests: Wende & Benjamin Herman
What are you going to do this day?
As an artist you want to explore and master all the possibilities that the business side of cultural entrepreneurship has to offer. Today this will all change! You can choose two business workshops to your preference and learn tips and tricks from our professional guest lecturers in a fun, light and interactive way.
Who can follow this workshop?
The workshops are offered to students and alumni of theater schools as well as to students and alumni of the conservatorium van Amsterdam. The workshops are also accessible for professional performing artists and musicians. The workshops are offered for free. Because of the limited number of places, soliciting students/alumni/starting professionals are required to apply by filling in the online form and sending a short motivation letter and a CV. We will notify you asap about your participation at the workshop.
When and where?
September 30th 2018
10.00-18.00
Conservatorium van Amsterdam
Oosterdokskade 151, 1011 DL Amsterdam
Join in and build your own success!
Workshops
Copyright Buma Stemra; change music to money

What is music copyright and to whom does it apply? What's the difference between copyright and neighbouring rights? How do PRO's such as Buma/Stemra exploit your copyrights and, most important, how do you get paid?

Online music streaming Fuga; different ways to put your music into the world
How do you earn money from streaming? Fuga, the digital online distribution platform talks about the online music streaming industry. About where you can best stream your songs and how the financial transparency works. Which platforms exist that are suitable for your genre. What one hit actually produces and what the best tactic is to distribute your product.
Career planning; stay focused
Every musician and artist, but also sportsman learns about the ups and downs in their career. How do you deal with insecurities and stay motivated in a world full of competition? The course will learn about perserverence, motivation and behavior being a self made professional.
Crowdfunding Voordekunst; create a successful campaign
If you have an idea or want to realise a major project? Then start with crowdfunding! But how do you do that exactly and what do you need to reach your audience? In this workshop you will be guided through all the steps you need to take, to realise a successful campaign.
Fund-raising; open the money boxes
How does a cultural fund work exactly? Why would you actually want to apply for a subsidy? Where should you do this? And if you are not good at it yourself or find it very boring to do, who can? Keep an Eye foundation gives you a glimpse into their funds world and how to start!
Social media building; create your own social identity
How do you place yourself and your image in the market? How do you reach people through social media and what is the best strategy?
Cultural entrepreneurship; learn tips and tricks about invoices and taxes
If you have to send an invoice as an artist, you need a VAT number. How do you do that and where do you start? This seems complex but can be arranged in a day! What else does the tax authorities require from me as a professional artist? Ben Schoenmaker, as an experienced accountant, will give you the tips and tricks that are necessary to be able to function as an independent artist.